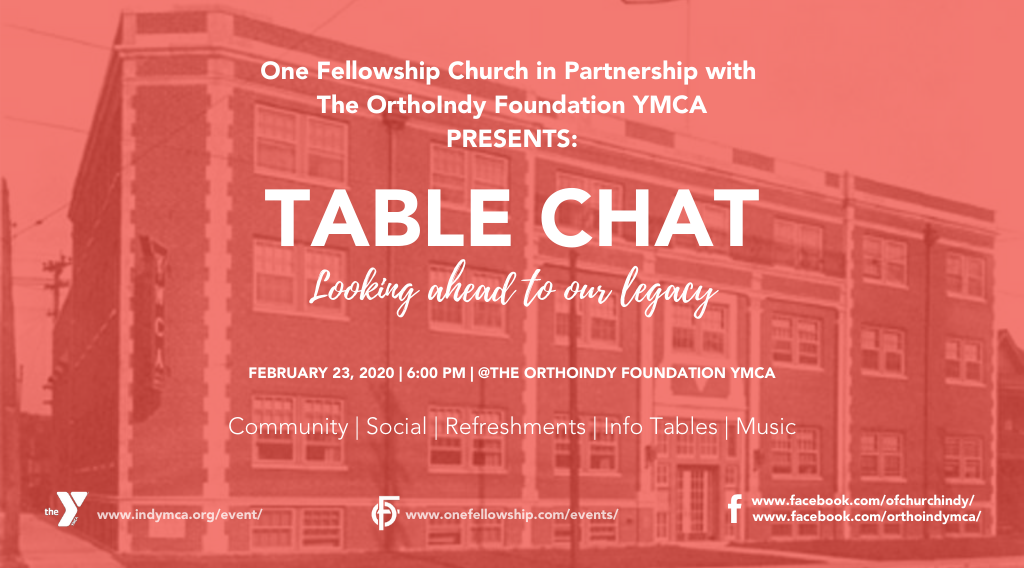 Sunday, February 23, 2020
,
6:00 PM - 8:30 PM
Location: The OrthoIndy Foundation YMCA, 5315 Lafayette Rd, Indianapolis, IN US 46254
One Fellowship Church in partnership with The OrthoIndy Foundation YMCA Presents: Table Chat | Looking Ahead to our Legacy
We're gathering with our community for an evening of listening and learning, as we consider the legacies African Americans left behind and look forward to the legacy our community is building. We will welcome many community speakers, including keynote speaker Curtis Woods.
Keynote Speaker (Q&A):
Curtis Woods
A Look Into the Legacy of African American Poet, Phillis Wheatley
Curtis A. Woods is the associate executive director for the Kentucky Baptist Convention. He is also the assistant professor of applied theology and biblical spirituality at Southern Seminary. He holds undergraduate and graduate-level degrees in social work, urban studies, and pastoral theology. He earned a Ph.D. in biblical spirituality at The Southern Baptist Theological Seminary in Louisville, Kentucky. His research interests are in African- American intellectual history and Woods is the co-author of the recently released book The Gospel in Color.
More Community Special Guests
Code Black Indy, inc
Kurly Koils
Indy Urban Youth Choir
IMPD North District
The OrthoIndy Foundation YMCA
Questions? Contact Ollie Ward.